By using our Services, you Agree to the Terms in Conditions outlined below.
Feel free to contact us if you have any questions or need clarification.
The first step in any Repair is getting an idea of what may be the Fault with the Device and what the Cost of the Repair would be – Called a Diagnostic
This is the most crucial test, as a wrong diagnostic may stir the repair into havoc or create additional failures. Which, on the other hand, increase repair cost and turnaround times as complexity rises. The steps below are the playbook we go through with each customer. Expect these steps to apply to your repair too.
0. Free Phone Assessment
Assessment is an informal chat over the phone to discuss what the issue may be. Due to the limited unpaid time, we have for Free Assessment and the complexity of the Devices these days, we will not identify the Fault as part of a Free Assessment.
1. Diagnostic/Consultation Fee
Often we Diagnose the Device while you wait within the Consultation appointment, so we can take it apart and identify the fault and Quote accordingly.
At Diagnostic completion, we will provide you with a Repair Quote and an explanation of what seems wrong with the Device. The quote is an estimated cost to Repair your Device. 
Laptop and Macbook Diagnostic/Consultation cost:
100$ – Diagnostic Charge to have a look or test what is wrong with the Device
Alternatively, leave the Device for Recycling to waive the Diagnostic Fee (applicable for devices over 500$ in value)
Diagnostic fee is non-refundable if you decide to cancel or not go ahead with the repair
Once you have received the Diagnostic and Repair quote, you can choose to:
Have the device Repaired within the Quote – Diagnostic fee does not apply. You pay only the quote for a successful repair!

Collect the device unrepaired – 100$ Diagnostic Fee applies
Donate the device for recycling without a repair attempt – No diagnostic fee applies
Please Note: We DO NOT provide a FREE DIAGNOSTIC, nor will we advise you how to DIY Repair the Device!
We keep seeing that some customers read online and try to match their device fault to similar faults they see repaired online.  It is true that some devices may share common faults. However, until we (or any Repair Centre) diagnose the device by taking it apart, inspecting and measuring the circuitry or identifying part numbers of a keyboard, screen, battery, etc., we wouldn't know the exact cost, availability and possibility of sourcing parts or identifying a fault!
Sometimes, some customers may think that not every laptop is worth the repair cost required to repair the issue they face and prefer to buy a new one. Other times we get customers who want to DIY and are after free fault-pointing and diagnosing assistance. Hence no Free Diagnostics!
2. Repair Attempt Charge
Once you agree to the repair attempt, we will do our best to repair the device within the Repair Quote.
However, if we encounter other underlying issues once we start the Repair, we will confirm with you and correct the Repair Quote before or during the work. (i.e. We fix the motherboard, but the keyboard is not working either.)
At the Repair Attempt Stage, you can:
Continue with the Additional Repairs
Cancel the Repair – 200$ – A repair Attempt Charge of 100$ Applies on top of the Diagnostic Fee of 100$
Donate the device for recycling and pay only the Diagnostic quote.
Liquid spillage on devices is a type of damage similar to a ticking bomb. The longer we wait, the more damage it does. Read more about what to do when spilled liquid on Devices.
Hence, quick action in getting it diagnosed and repaired is crucial. Otherwise, the success rate and amount of damaged components increase – resulting in higher repair costs or an unsuccessful repair.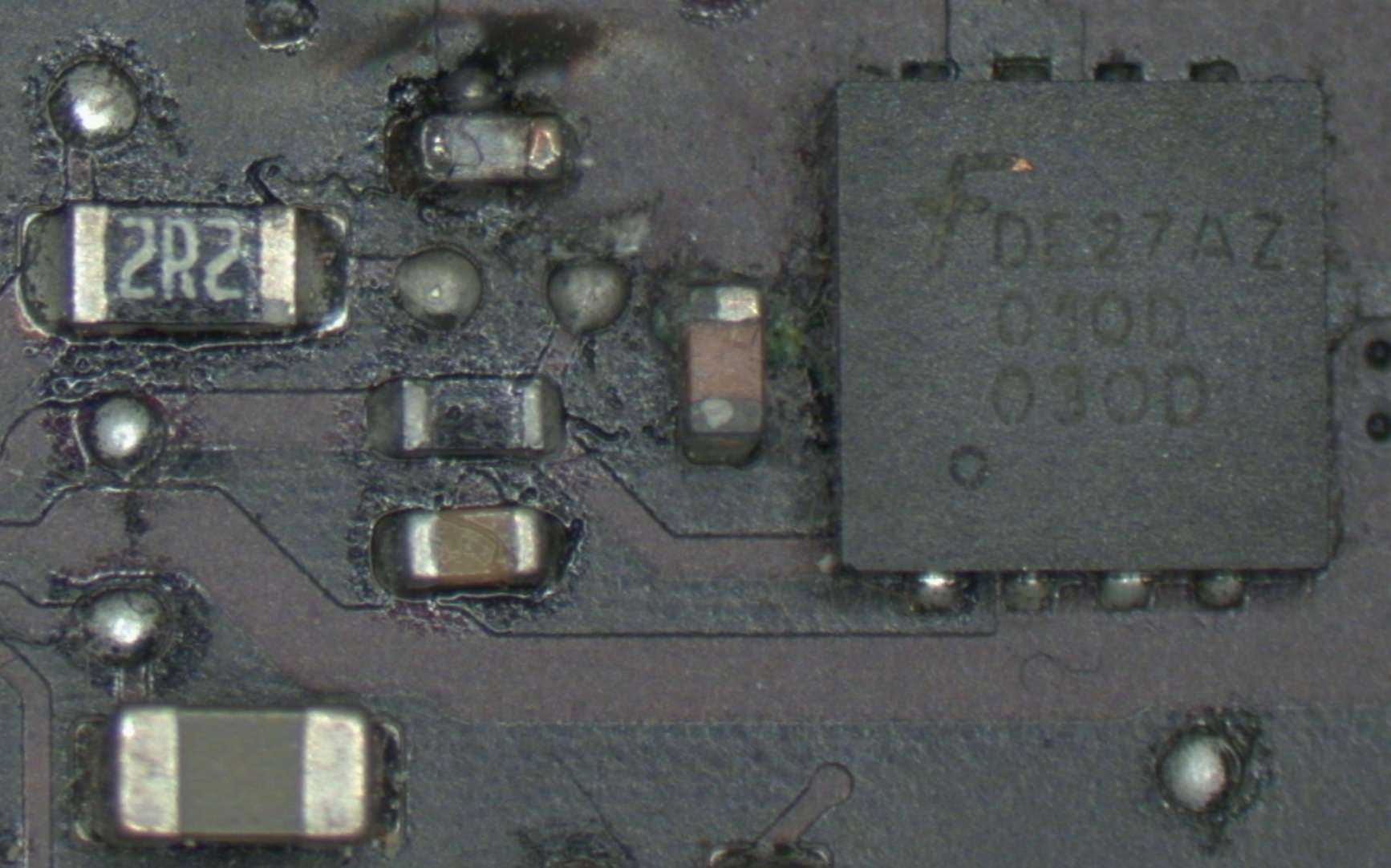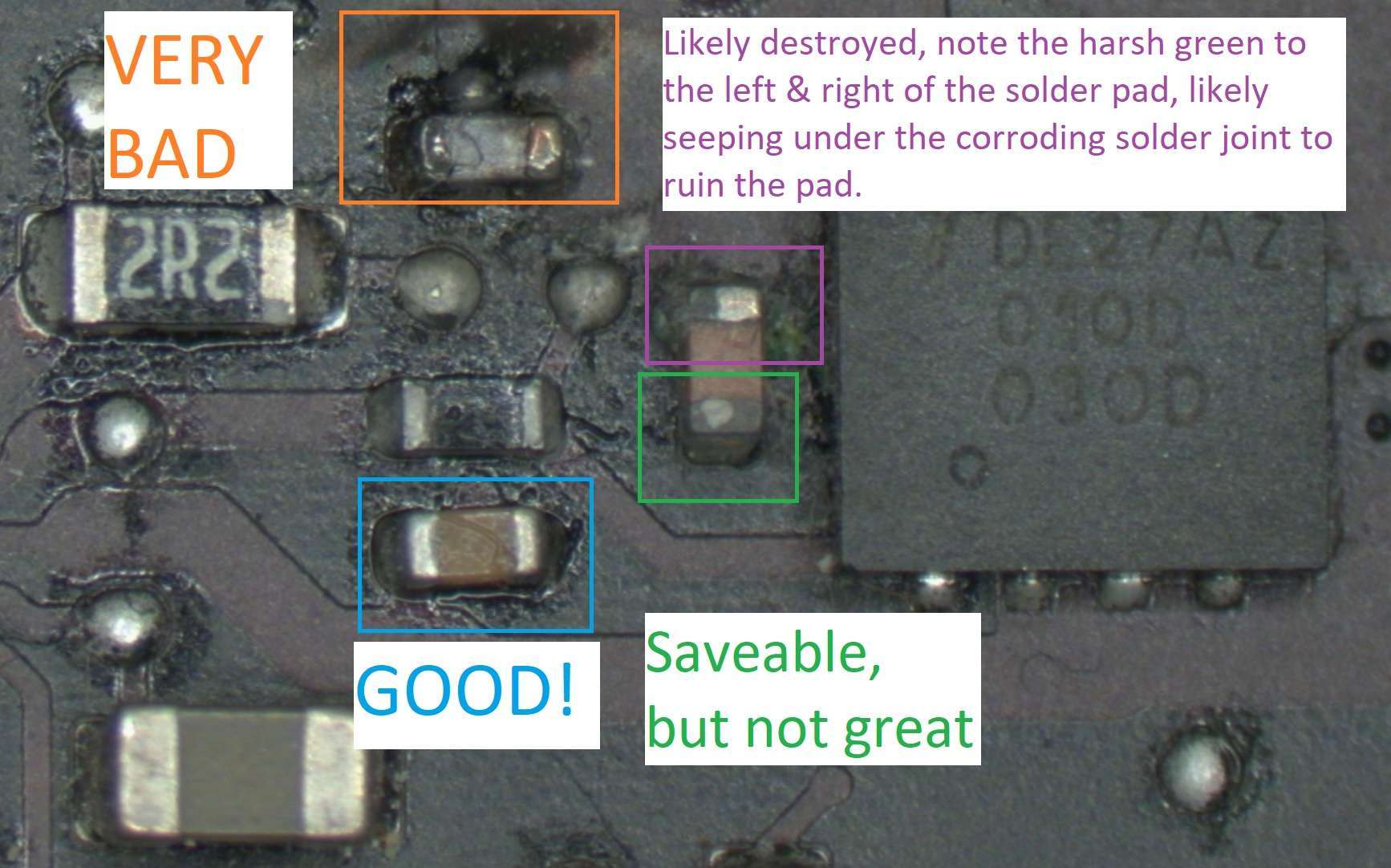 More information regarding corrosion types can be found here.
Considering all this, any kind of liquid spilled equipment is bound to fail. Hence there is a chance that partially working liquid damage equipment which comes for a diagnostic will fail by the time we do the diagnostic as "we will apply pressure to the wound to assess the situation". This will inevitably accelerate the corrosion.
Expect the liquid damage device to stop functioning after the diagnostic!
UNSUCCESSFUL/CANCELLED REPAIR DEVICE CONDITION
We cannot guarantee that equipment after a Cancelled/Unsuccessful Repair will be in the same condition as it arrived.
Specifically, valid for liquid damage or devices that are about to fail.
They might not work entirely or partially after the Repair attempt if they were about to fail before the Repair attempt.
We may not be able to bring the device to the pre-repair/semi-faulty state after an unsuccessful Repair attempt.
DATA STORED ON A FAILING OR ABOUT TO FAIL DRIVE/DEVICE
We will do our best to preserve your data. However, we cannot guarantee that your data will be intact if your storage drive is about to fail when the Device arrives or during a Repair. Or if your Device fails to turn on or display a picture due to underlying issues.
PLEASE BACKUP YOUR DATA BEFORE YOU BRING IT FOR A REPAIR TO AVOID 350$ DATA BACKUP FEES IF THE REPAIR IS UNSUCCESSFUL
OR THE DEVICE STOP RESPONDING!
Macbooks manufactured after 2018 come with T2 or M1 security chips, which are very sensitive to any repair or replacement on the Macbooks. As a result, something simple as battery replacement or screen replacement may trip their security and require a system to be wiped and reset. This is another way Apple is trying to phase out repairs on their devices and encourage people to buy a new one each time they fail.
Windows laptops connected to a Microsoft Account and have login passwords may have enabled BitLocker encryption. Unfortunately, this encryption locks the data to the Motherboard; if Motherboard stops operating, we cannot recover the data!
We won't be able to back up the data after security has been tripped or the Motherboard failed. Hence ensure you opt-in for the extra backup option before any work is done, or back up the data before you bring it in!
What this means to you is that you need to constantly backup your data! Even before you bring it for any repairs!
Suppose the equipment stores critical data that was not backed up, and the system still turns on and responds. Please discuss with us to get it backed up on an external drive for you before any work is done. In that case, a 350$ fee applies, which includes a 1TB USB drive set as a Backup drive once the repair is complete. If the system is not turning on anymore, then you have not much choice but rather hope for a successful repair or go through the Data Recovery path.
WORRIED ABOUT PROVIDING LOGIN DETAILS TO YOUR SYSTEM?
We voluntarily oblige with the Australian Privacy Act to ensure your data is not leaving your laptop/computer premises unless we need to reinstall the operating system and preserve your data between reinstalls. In such a case, we store the data onto a temporary drive which gets securely wiped between data transfers.
For any other cases, we are not interested in customers' data and are not willing to jeopardize our reputation by a data leak!
However, we need the login password to the system. This is because we take apart a complicated device and must ensure that all functionalities work as intended. To ensure that, we need to be able to log in and test functionalities such as charging, camera, keyboard and other modules.
If you are worried about providing login details for a still functioning machine, please create a second Administrator user account for us to test the system. This way, you ensure that we cannot access your data.
Username: admin
Password: 0000
Type: Administrator
For laptops that cannot turn on or operate: Unfortunately, there is no option but to provide the login details so we can test the newly installed or repair parts properly.
Note: Guest users cannot test most of the system's functionalities; hence do create an Administrator account.
REPAIRABILITY REPORT/ INSURANCE QUOTE
Suppose you have Home and Content Insurance and an accident on your device occurred within your home premises. In that case, you may be eligible for an insurance payoff for repairing or replacing your device. Most insurance companies will require an official written report and quote for a repair, called an Insurance Report.
We can provide a written report to summarise the fault and provide a repair quote which can then be passed to the insurance companies. 
The cost for an Insurance/Techincal Assessment/Repairability Report or a Written/Official Quote is 100$.
Due to the increase in eWaste and Government Policies in Recycling eWaste, now we are required to collect the Faulty Device if an insurance company writes it off. Hence expect to leave the device for recycling with us if the Insurance company writes it off with a replacement device.
Do you need Insurance Report?
Fill out our Insurance Report Form if you would like us to Diagnose and provide you with an Insurance Report.
CANCELATION OF THE REPAIR
After the Repair and Quote are agreed upon, you cannot cancel the Repair. Due to the parts being ordered and time invested in the Repair process.
Once the Repair has started and you decide to cancel the Repair due to a price change, there will be a Diagnostic/Cancellation fee as described above
Abandoned equipment (by customers who don't respond or haven't arranged a collection of their device) for over 60 days of a completed repair (successful or unsuccessful) will be disposed of if no arrangement is made.